NW Tips For Events
How to Organize a Community Event!
Every year, USAonWatch receives a number of requests on how to go about planning a community event. So in this issue of our newsletter we provide you some pointers on creating a successful community event. The first thing your group should do is consider what is going to be the goal of your event.
Set Your GOAL
You want to familiarize your neighborhood with your program, how it works and how to be involved

A planned EVENT can have more impact than just a "meeting" to achieve your GOAL
Define the details for your event
When and where it will take place, who will speak, who to invite, what will be on the AGENDA

Be sure your event does not conflict with another area event

Who are your helpers, volunteers and coworkers?
Allow time before the event to brainstorm ideas, set deadlines and delegate responsibilities
Prepare an AGENDA
Set time limits -- how much time will each speaker or speakers be able to speak

Be a bit generous with time between agenda items to assure you don't run past your scheduled ending time; also allow time for interaction between audience and event participants
Choose an Emcee or Moderator
Define the Emcee's duties, such as welcoming the audience, introducing speakers, keeping the event going and on time
Provide the Emcee with names and info on each speaker to give an introduction
If you invite VIPs, elected officials, or local personalities, alert the Emcee to recognize these individuals and have them stand up

Ask local media personalities to moderate and they can provide you with coverage in a local media outlet
Choose Your SPEAKERS
Experts in the field, those with success stories, people currently involved
Contact them well in advance; let them know who long they will be expected to speak
Determine if there will be a question and answer period; if there will be handouts or literature
Address the speakers' needs – parking info, availability of food and water, audio-visual and electrical equipment
Attract your AUDIENCE
Get the word out -- create a flyer, brochure or poster to distribute, email or post on bulletin boards at neighborhood libraries, community centers, local businesses and other public buildings where posting flyers is allowed

Computer Programs like Microsoft Publisher and Adobe Photoshop can be used to create colorful documents advertising your event, its location, date and time

 
Consider a classified ad in the local newspapers, a notice in community organization bulletins, school and church groups;
Send a press release to local media, TV, radio or publications, ask to post an ad on appropriate or relevant internet sites and consider advertising on a local public access TV channel
Public access television is an excellent way to reach a large audience in a short amount of time
Appear at other events prior to yours and pass out flyers, engage in conversations, answer questions and introduce yourself and your event
Create Checklist of Details to Stage Your EVENT
Will you need a podium for speakers, microphones for them and/or the audience to ask questions? How many chairs for the speakers and audience and how arranged? Have you provided tables for handouts? Can you provide access for the handicapped? Will there be media coverage?
What supplies will be needed to set up before and clean up after your event? Will you allow video or audio recording during the event?
Will you need visual aids, posters on easels, sandwich boards, banners or balloons to attract and direct your audience when they arrive?
Will there be a sign-in sheet or guestbook to help be in touch after the event?
Develop a Plan B
Anticipate possible problems, such as bad weather, speakers running late or not showing up, mechanical and electrical problems and how to deal with them
Be a Good Host during the event and after
Send thank-you's to speakers, volunteers and other participants who helped make your event a SUCCESS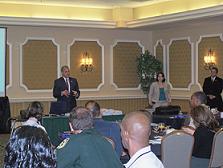 These are just a few pointers for your group on holding a successful event. If you have any questions please contact us at info@usaonwatch.org.