Citizens on Patrol Volunteers Boost Texas County's Crime Preventon
Of the People, By the People, For the People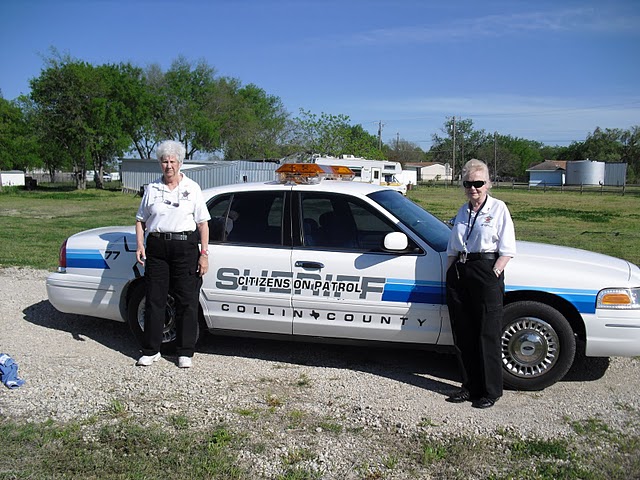 On August 14, 2010, just minutes after beginning their shift, two Collin County Citizens on Patrol volunteers received a radio dispatch from headquarters. A structural fire at a local salvage yard located near a busy intersection had created a hazmat situation, and emergency response personnel needed help with traffic control. Donning safety vests, the volunteers rushed to the scene and quickly had traffic rerouted and flowing smoothly while firefighters concentrated on controlling the blaze. Another time, while on midnight patrol, the same volunteers found themselves busy managing traffic of a different kind—a herd of 15 escaped Texas longhorns, which they successfully drove back from and kept off the highway until animal control agents could respond.
Picture: Collin Co. Wanda Parker & Kitty Schwartz of the Citizens' Academy Alumi Association.
Traffic manager and cattle "whisperer" are just two of the many hats Collin County's highly trained and motivated cadre of Citizens on Patrol volunteers wears. Performing various crime prevention, public safety, and administrative functions, program volunteers have become invaluable assets to law enforcement, according to Sheriff Terry G. Box. "The Collin County Sheriff's Office Alumni/Citizens on Patrol volunteer program is the most cost-effective means of enhanced delivery of service to the community we serve. The success of the program has far exceeded our expectations both in public satisfaction and acceptance by the deputies. It is a tool the sheriff's office has come to depend on."
Crime Prevention in Collin County: A Brief History
At its June conference, the National Sheriffs' Association presented Sheriff Box with the 2010 Award for Excellence in Neighborhood Watch, lauding his agency's comprehensive crime prevention efforts, which include —to name a few—a well-established Neighborhood Crime Watch program; an R.U.O.K. senior daily call service; as well as safety and education programs targeted at women, seniors, and school children.
Key to the Collin County Sheriff's Office success is its Crime Prevention Unit's ability to understand and meet the needs of a dynamic, everchanging community. Established 17 years ago, the unit has expanded its range of programs in response to unprecedented population growth. Between census years 2000 and 2010, Collin County, an affluent suburban county north of Dallas, expanded from 491,000 to an estimated 784,000 residents as city dwellers began relocating to the suburbs. Now the fastest-growing county in Texas, Collin County encompasses several bustling towns and cities, including McKinney, Plano, and Frisco, as well as large tracts of agricultural lands.
As the population has increased so have opportunities for Collin County citizens to join forces with local law enforcement in their efforts to prevent crime and ensure public safety. Currently, the county boasts 78 Neighborhood Crime Watch groups, and more than 90 percent of rural Collin County businesses participate in Rural Business Watch. Collin County's newest crime prevention program, Citizens on Patrol, was established on January 21, 2009.
The program began as an offshoot of the Collin County Sheriff's Office Citizens' Academy. In 2004, the Crime Prevention Unit began accepting requests from eager academy alumni wishing to serve with the agency. Four years later, the volunteer pool had grown large enough to warrant forming a Citizens on Patrol program. The 42 graduates of the 2009 Citizens' Academy became the first program members. Soon after, the county commissioner and city of Lucas donated two retired squad cars, which were decaled and refitted with radios and emergency equipment.
The Citizens on Patrol program was an immediate success with the citizens of Collin County, who welcomed the low-cost additional patrols in their neighborhoods. Collin County sheriff's deputies were equally receptive to the volunteers, who have taken over many less-pressing assignments and freed them up to respond to urgent calls. During their first year on duty, Citizens on Patrol volunteers logged in 5,597 volunteer hours.
Training
Many Collin County Citizens on Patrol volunteers hail from the Neighborhood Watch and Business Watch communities or have transferred from city patrols because they enjoy the challenges unique to the county's rural setting. All applicants must first submit to and pass a background check in order to reserve a space in the Citizens' Academy. (There currently is a waiting list.) Once accepted, students complete a total of 45 training hours during weekly three-hour class sessions. The curriculum is designed to introduce students to sheriff's office operations and the duties sheriff's deputies and non-sworn staff perform, allowing potential volunteers to gauge their interest in future service.
Citizens' Academy graduates are invited to join the Alumni Association, after which they become eligible to apply for Citizens on Patrol training. Usually held in December or January, the 16-hour Citizens on Patrol course provides practical training in offender recognition, traffic direction, accident scene coordination, driving techniques, and parking citations. Trainees also learn specialized techniques for handling escaped livestock—especially valuable given the many busy roadways that dissect the county's agricultural tracts. Students with no previous law enforcement or Citizens' Academy experience complete an additional 24 hours of field training, which allows law enforcement personnel to gauge their mastery of the material covered during basic instruction and correct any deficiencies. Additionally, students learn how to complete paperwork and follow correct vehicle checkout and radio procedures. Alumni association meetings offer all volunteers ongoing opportunities to hone their skills with an hour of continuing education provided each month on diverse topics.
All in a Day's Work
While volunteers are not permitted to make arrests or cite lawbreakers, their work is never humdrum. In addition to performing traffic control duties, Citizens on Patrol members routinely interact with area citizens on behalf of law enforcement. Following residential and commercial burglaries, for example, volunteers visit affected property owners to offer support. "It is very comforting for victims to know that the sheriff's office is interested," explained Crime Prevention Unit Deputy Dickie L. Thomas, coordinator of the Citizens Academy, Citizens on Patrol, and Alumni Association. "Also, the visible presence of our volunteers serves as a deterrent to criminals."
This year, Collin County launched two new programs, which are now administered by Citizens on Patrol members. The first, a sex offender registration program, employs eight trained volunteers who meet with sex offenders and re-register them each time they report to the sheriff's office. Volunteers on duty take information from each offender and enter it into the computer system. A sworn sheriff's deputy continues to register newly convicted sex offenders and monitors the registration process for quality assurance but now has more time to concentrate to his primary duties.
Thanks to volunteer support, the Crime Prevention Unit's intelligence deputy also was able to devote time to the development of a new crime data distribution program. Launched this year, the Collin County Code Red Crime Bulletin allows agency investigators to disseminate crime and offender information to Neighborhood and Business Crime Watch leaders, law enforcement, county government workers, and Citizens on Patrol members. Volunteers assist the sheriff's office staff with production and distribution of the weekly bulletin alerts. "The program is new, and crime prevention results are difficult to determine, but we have seen a drop in the number of burglaries since the program began," said Deputy Thomas.
The Collin County Sheriff's Office currently has approximately 180 members who are eligible to volunteer. This group comprises approximately 62 Citizens on Patrol volunteers, most of whom are fully trained. A core group of some 20 to 25 routinely assists the sheriff's office patrol unit with traffic scene investigation, traffic direction, and other duties that do not require a certified law enforcement officer or deputy.
Citizens on Patrol Nationwide: Success Stories
Budget cuts and hiring freezes have led law enforcement agencies across America to rely on trained volunteers for assistance with duties traditionally performed by sworn officers. Surprisingly, rather than simply bridging the funding gap, initiatives such as Citizens on Patrol are actually enhancing crime prevention and public safety efforts and improving the quality of life in communities nationwide, as illustrated by the examples below:
McKinney, Texas – In February 2009, Collin County was one of more than 200 Texas jurisdictions to take part in the Third Annual Great Texas Warrant Roundup, a statewide effort to clear out delinquent traffic violations. City of McKinney Citizens on Patrol volunteers helped law enforcement officers broaden their search for offenders with unpaid misdemeanor traffic tickets.
El Monte, California – On March 8, 2007, school patrol volunteer Rudy Sanchez heard calls for help coming from an adjacent classroom. He ran to the scene and found a child unconscious after choking. Sanchez quickly used the Heimlich maneuver to dislodge a piece of hard candy blocking the child's windpipe. Only two days later, Sanchez was volunteering at a local book festival when a two-year-old in a stroller began to choke on a jawbreaker. Sanchez successfully used the infant Heimlich maneuver but had to initiate CPR when the girl's heart stopped. Paramedics said that without his assistance the girl would have died. For his heroic efforts, Mr. Sanchez was awarded the 2007 National Organization Citizens on Patrol Life Saving Award.
Burleson, Texas – In additional to traffic control, Citizens on Patrol volunteers from this growing Fort Worth suburb provide home and business vacation security checks as well as patrol retail parking lots during the holidays. A half-dozen group members recently completed the Burleson Police Department's first bicycle certification course and can frequently be seen wheeling through local parks on patrol duty.
Gastonia, North Carolina – With power packs donated by Lowe's and Home Depot, Gastonia Citizens on Patrol volunteers help keep roadways safe by jump-starting cars of stranded motorists. During the program's first year of operation, volunteers also assisted at 115 vehicle crash scenes. Volunteers also patrol city parks, which has helped deter drug dealers and other criminals.
Waco, Texas – Students from Baylor College, Texas State Technical College, and McClennan Community College can earn college credit in political science while learning about the law enforcement profession first-hand. Citizens on Patrol student volunteers help patrol the Baylor campus and direct traffic during special events. The patrol is especially active during Christmas break and other school holidays, when fewer "eyes and ears" are typically around to report crimes.
Helpful Links
Collin County Government Homepage
Collin County Neighborhood Watch
Collin County Sheriff's Office
Dallas-Fort Worth Metroplex Disaster Volunteer System